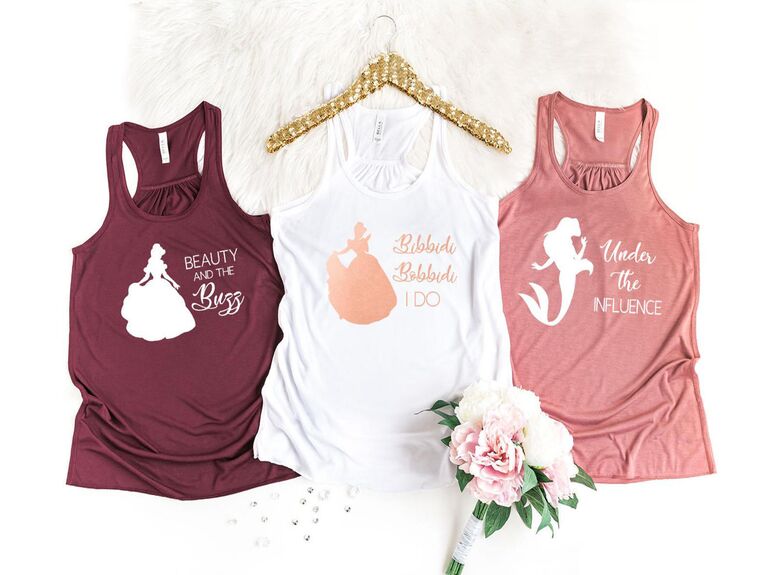 Did you know that Jcubedk offers some of the most fashionable bachelorette party shirts and wedding gifts on the market? Continue reading to find out more.
Irresistible Bachelorette Shirts
Friends-Themed Bride Shirt
Do you love the sitcom Friends? A bachelorette party weekend will not be complete without cute Friends-Themed Bride Shirts. Wouldn't you agree? The one for the bride features the expression "Got myself a husband." The bridesmaid shirts say "I'll be there for you." These bridesmaid gifts look great in every color including white, gray, navy, and maroon.
Wife Of The Party
Most brides consider themselves the life of the party. With this important insight in mind, you are going to need the Wife Of The Party Shirt to appropriately celebrate your bachelorette weekend. You'll love this shirt in white, soft pink, maroon, or grey.
Don't Be A Salty Beach
The importance of kindness cannot be underestimated, especially during a bride's bachelorette party. Most friends don't need a reminder to be kind, but just in case they do, the Don't Be A Salty Beach make the perfect bachelorette part shirts. Order this tank top in navy, black, or mint, and your bridesmaids will thank you.
Bride's Babes Tank Tops
If you want to turn heads during your bachelorette weekend, then you need to give your bridesmaids the Bride's Babes Tank Tops. Featuring cute, slim-fit designs, these bridesmaid gifts are sure to "wow" your friends. These bachelorette party shirts are extremely popular because of their extra light fabric and gorgeous script.
Trendy Bride Squad Shirt
Most brides view bridesmaids as their squad. If you feel the same way, then you absolutely must get them the Trendy Bride Squad Shirt. You can even order a matching shirt that says "Bride." Choose from one of the following colors: pink, black, light blue, white, and maroon.
Must-Have Wedding Gifts For The Bride
Personalized Ruffled Apron
For brides who enjoy being a hostess, this personalized ruffled apron is the perfect wedding gift. The product can feature a personalize print of the bride's last name. Offered in white, black, and pink, any bride who likes pretty things will absolutely love this item.
Cheetah Print Makeup Bag
Almost any cheetah print wedding gift will melt a woman's heart. Available in peach blush and white, this product can be personalized with the bride's name to make the wedding gift extra special.
Personalized Sun Hat
If the bride is having a beached-themed wedding or bachelorette party, a wedding gift that will make her smile is a personalized sun hat. The great thing about this product is that you can make it personal. The sun hat can feature the bride's new last name in a gorgeous black script. Order the hat in white, pink, or tan.
Bachelorette Party Ideas You'll Love
As a bride, you probably want your bachelorette party to be memorable, right?
If this is the case, consider having a destination bachelorette party. While you and your bridesmaids are traveling to the destination, you can give your friends cute bachelorette party shirts. Some popular bachelorette destinations include the beach, a foreign country, or even a bar in a nearby major city.